Time Off to Vote: 7 Key Facts You Need to Know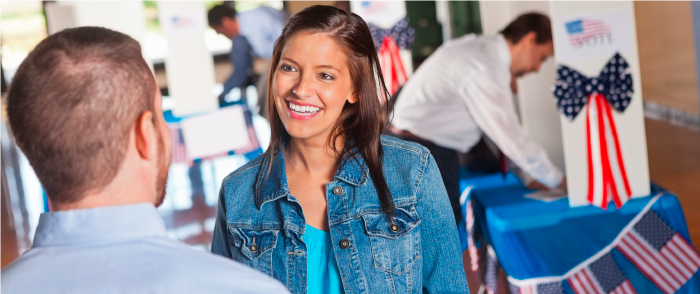 The general election is November 3, 2020. Under state law, many employers may be required to provide time off to employees for them to vote and/or act as an election official. Here are seven key facts about these requirements:
#1: Most states require employers to give time off to vote:
Twenty-eight states and the District of Columbia have at least some requirement for employers to provide time off for employees to vote:
A few other states don't have an express leave requirement but do have other protections for employees. For instance, in Pennsylvania, employers can't prevent employees from voting in any election.
#2: State rules vary on duration and timing of voting leave:
In general, states handle the voting leave requirements by either granting employees:
As much time as needed. For example, Minnesota requires employers to allow employees to take the time necessary to appear at their polling place, cast a ballot, and return to work on the day of the election;
A specific amount of time. For example, the District of Columbia requires employers to provide at least two hours for employees to vote;
Time off only if they lack sufficient time outside of work. For example, California requires that if an employee doesn't have "sufficient time outside of working hours" to vote, they must be provided enough time off work to enable them to vote, but only two hours of such leave must be paid; or
Time off based specifically on the distance to the employee's polling location. For example, Nevada allows for one hour of paid time off if the distance is two miles or less, two hours if it's more than two miles but less than 10, and three hours if the distance is greater than 10 miles.
Some states allow employers to specify when the leave can be taken or require employees to take the leave at the beginning or end of their shift. Even in some of the states that allow employers to specify when the leave can be taken, the employer must honor employee requests to schedule the time off at the beginning or end of their shift. Check your state law for guidance.
#3: Voting leave must be paid in most cases:
Of the states that require time off to vote, most require all or a portion of it to be paid. If pay is not required by state or local law, employers typically do not need to compensate non-exempt employees for time spent voting. Regardless of your state requirement, however, under federal law, exempt employees must be paid for time spent voting since the Fair Labor Standards Act generally prohibits deductions from an exempt employee's pay for partial-day absences. Check your state law for guidance.
#4: COVID-19 is impacting voting:
As a result of the COVID-19 pandemic, more individuals are expected to vote by mail, also known as absentee voting. Depending on the state, employers may be required to provide leave during the absentee-voting process and state law may provide certain other protections for individuals who vote by mail. For instance, in Kentucky, employers must provide employees with at least four hours of leave to request an application for, or execute, an absentee ballot during the office of the clerk's normal business hours, or to vote on Election Day. In California, employers are prohibited from asking or requiring an employee to bring their vote-by-mail ballot to work or to complete the ballot at work.
Note: Some voting leave laws don't expressly address absentee voting. In such cases, you may want to consult legal counsel. In the absence of a requirement, try to be flexible and allow employees to use other employer-provided leave if available.
#5: Some states require employee notice:
Some states require employees to give notice of the need for voting leave prior to Election Day. Some require a specific amount of notice whereas others simply require reasonable notice. In states without a notice requirement, employers may request reasonable notice but may not be able to require it.
#6: Certain states require employers to post a notice:
California and New York require employers to post a notice about voting leave at least 10 days before an election. Given that more employees are working away from the traditional worksite, covered employers should consider alternative methods to notify employees of their rights to vote, such as through email or the company intranet.
#7: Some states provide leave for election officials:
Some of the states that require voting leave also require employers to provide leave for election officials, including Alabama, Illinois, Kentucky, Nebraska, Ohio, and Wisconsin. A few other states provide election-official leave only, including Delaware and Virginia. In Tennessee, employers must provide leave to voting machine technicians. Check your state law for the requirements that apply to you.
Conclusion:
Voting leave requirements vary from state to state, so carefully review state law to understand the rules that apply to your employees.