Summer 2022 HR Compliance Calendar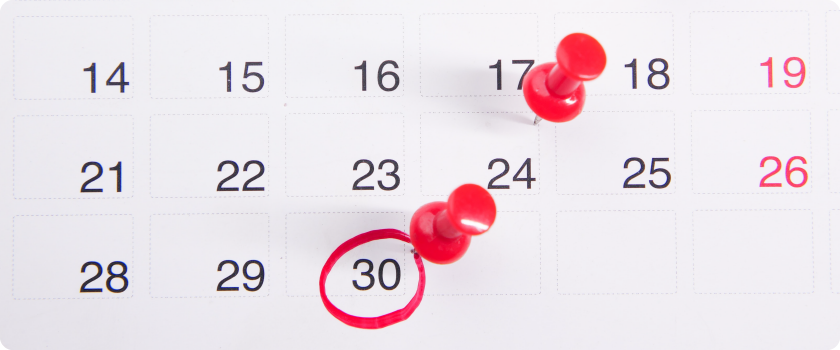 Below is a summary of compliance requirements that took effect recently or will take effect soon.
For a list of legislative updates covering the COVID-19 pandemic, see our COVID-19 Compliance Alerts page.
Minimum wage increases set for July 1
July 1, 2022
This chart covers July 1, 2022 minimum wage increases for all applicable states and some larger U.S. cities. Some states and localities increase their minimum wage rates at the beginning of the year or on a different cycle. For example, Florida's minimum wage and tipped minimum wage will increase to $11.00 per hour and $7.98 per hour on September 30, 2022.
The information in the chart applies to July 1, 2022 increases only.
Note: This is not an exhaustive list. There may be additional local jurisdictions that have scheduled increases, or additional employees (EEs) may be impacted. Check your local laws to confirm compliance
| | | |
| --- | --- | --- |
| Jurisdiction | Minimum wage per hour | Tipped employee cash wage per hour |
| Alameda, CA | $15.75 | * |
| Berkeley, CA | $16.99 | * |
| Emeryville, CA | $17.68 | * |
| Foster City, CA | $15.75 | * |
| Fremont, CA | $16.00 | * |
| Long Beach, CA (Hotel Workers) | $16.73 | * |
| Long Beach, CA (Concessionaire Workers) | $16.55 | * |
| Los Angeles, CA | $16.04 | * |
| Los Angeles County (Unincorporated Areas Only) | $15.96 | * |
| Malibu, CA | $15.96 | * |
| Milpitas, CA | $16.40 | * |
| Pasadena, CA | $16.11 | * |
| San Francisco, CA | $16.99 | * |
| Santa Monica, CA | $15.96 | * |
| Santa Monica, CA (Hotel EEs) | $18.17 | * |
| West Hollywood, CA (Hotel Workers) | $18.35 | * |
| West Hollywood, CA (50 or more EEs) | $16.50 | * |
| West Hollywood, CA (49 or fewer EEs) | $16.00 | * |
| Connecticut | $14.00 | No scheduled increase |
| District of Columbia | $16.10 | $5.35 |
| Chicago, IL (21 or more EEs) | $15.40 | $9.24 |
| Chicago, IL (4 – 20 EEs) | $14.50 | $8.70 |
| Cook County, IL | $13.35 | $7.40 |
| Montgomery County, MD (51 or more EEs) | $15.65 | No scheduled increase |
| Montgomery County, MD (11 – 50 EEs) | $14.50 | No scheduled increase |
| Montgomery County, MD (10 or fewer EEs) | $14.00 | No scheduled increase |
| Minneapolis, MN (More than 100 EEs) | $15.00 | * |
| Minneapolis, MN (100 or fewer EEs) | $13.50 | * |
| St. Paul, MN (Employ more than 10,000 EEs) | $15.00 | * |
| St. Paul, MN (Employ more than 100 EEs) | $13.50 | * |
| St. Paul, MN (Employ 100 or fewer EEs) | $12.00 | * |
| St. Paul, MN (Employ 5 or fewer EEs) | $10.75 | * |
| Nevada (no health benefits offered) | $10.50 | * |
| Nevada (health benefits offered) | $9.50 | * |
| Oregon | $13.50 | * |
| Oregon (Portland, Urban Growth Boundary)1 | $14.75 | * |
| Oregon (Non-Urban Counties)2 | $12.50 | * |
*Tip Credits are prohibited under state law. The tipped wage equals the minimum wage.
1 - Portland Metro: Employers within the metropolitan Portland urban growth boundary (https://www.oregonmetro.gov/urban-growth-boundary)
2 - Non-urban Counties: Employers in Baker, Coos, Crook, Curry, Douglas, Gilliam, Grant, Harney, Jefferson, Klamath, Lake, Malheur, Morrow, Sherman, Umatilla, Union, Wallowa, and Wheeler
Federal
March 3, 2022
New federal law bars forced arbitration agreements for sexual harassment claims.

President Joe Biden has signed legislation that invalidates certain pre-dispute arbitration agreements that preclude an individual from filing a lawsuit alleging sexual assault or sexual harassment against an employer.
April 6, 2022
Student loan relief is extended.

President Biden announced an extension of the pause on student loan repayment through August 31, 2022.
April 30, 2022
DHS sets end date for temporary policy on expired I-9 documents.

The Department of Homeland Security has announced that a temporary policy regarding expired documents used to verify a new hire's identity and work authorization will end on April 30, 2022.
May 4, 2022
USCIS increases extension period for certain employment authorizations.

The U.S. Citizenship and Immigration Services has temporarily increased the automatic extension period for certain employment authorizations and employment authorization documents from 180 days to 540 days.
May 17, 2022
EEO-1 reporting begins for covered employers.

The U.S. Equal Employment Opportunity Commission has announced that the tentative deadline to submit an EEO-1 report for 2021 is May 17, 2022, and that the tentative date it will begin accepting EEO-1 reports for 2021 via its portal is April 12, 2022.
June 30, 2022
Federal contractors must certify AAP compliance by end of June.

Federal service and supply contractors that are required to maintain an affirmative action program (AAP) have until June 30, 2022, to certify their AAP via the Office of Federal Contract Compliance Program's Contractor Portal.
State
Alabama
July 1, 2022
Alabama requires adoption leave. Alabama will require certain employers to provide leave to adoptive parents.
Arizona
TBD (90 days after the legislature adjourns)
Arizona expands coverage of sexual harassment law. Arizona expands the state's law prohibiting sexual harassment, updating it from employers with 15 employees to all employers.
California
April 1, 2022
New deadline set for CA pay-data reporting. California employers with 100 or more employees must report pay and other data to the Department of Fair Employment and Housing by April 1, 2022.
April 11, 2022
California releases ABC test exception guidance. California has issued a new publication that addresses the ABC test exemption for contracts for professional services.
April 21, 2022
California issues Emergency Rule for CalSavers. California defines key terms and clarifies employer responsibilities under the CalSavers Retirement Savings Program.
May 23, 2022
California Supreme Court rules missed break payments are wages. The California Supreme Court has ruled that the extra pay that an employer is required to pay an employee if the employee works during a meal break constitutes wages for purposes of California's final pay and itemized wage statement requirements.
July 12, 2022
San Francisco amends Family Friendly Workplace Ordinance (FFWO). Among other things, employers with 20 or more employees must provide flexible or predictable working arrangements upon request by an employee with certain caregiver responsibilities, unless it would impose an undue hardship on the employer.
Colorado
May 1, 2022
Colorado implements new meal and break rules for agricultural workers. Colorado implements rules that require additional meal and rest breaks for agricultural workers when dangerous conditions exist.
May 25, 2022
Colorado requires new unemployment notice to departing employees. At the time of separation, employers must provide a written notice about the availability of unemployment benefits and certain other information.
August 9, 2022
Colorado amends Workers' Comp notice requirements. Colorado amends when an employee must give notice to their employer of a workplace injury and adds changes to the notice that employers must display.
Connecticut
July 1, 2022
Connecticut protects employees from required political or religious meetings at work. Connecticut prohibits employers from disciplining employees for refusing to attend an employer-sponsored meeting concerning religious or political matters, which includes organized labor.
Connecticut's recreational marijuana law's employment protections take effect. Connecticut provides certain employment protections for recreational marijuana use outside of work.
Connecticut expands voting leave requirement. Connecticut has enacted legislation that expands the circumstances under which employees may use voting leave under state law.
Connecticut requires new family and medical leave notice. All Connecticut employers must provide written notices to employees at the time of hire and annually thereafter about family violence leave and leave under Connecticut's Family and Medical Leave Act.
Florida
July 1, 2022
Florida restricts employee training on certain concepts. Florida prohibits employers with 15 or more employees from subjecting an individual to training that endorses certain concepts about discrimination.
Georgia
May 5, 2022
Georgia restricts local labor law mandates. Georgia's "Protecting Georgia Businesses and Workers Act" restricts local governments from imposing additional regulations such as labor mandates for employers but allows a local government entity to set and regulate hours, scheduling, and output for its own employees and for the provision of certain services.
July 1, 2022
Georgia clarifies independent contractor test for unemployment benefits. Georgia clarifies the test used to determine whether an individual is an independent contractor or employee for the purpose of unemployment benefits in the state.
Illinois
March 24, 2022
Equal pay reporting begins for large Illinois employers. The Illinois Department of Labor (IDOL) has begun rolling out a requirement for employers with 100 or more employees working in Illinois to obtain an Equal Pay Registration Certificate sometime between March 24, 2022, and March 23, 2024. Employers should receive a notice from the IDOL at least 120 days prior to their assigned registration deadline.
July 1, 2022
Chicago requires harassment policy, training, and poster. Employers must have a written policy on sexual harassment, provide harassment training annually, and display a poster.
Louisiana
August 1, 2022
Louisiana prohibits hairstyle discrimination. Louisiana expressly prohibits employers from discriminating against individuals based on their natural, protective or cultural hairstyle.
Maine
August 8, 2022
Maine prohibits hairstyle discrimination. Maine has enacted legislation that expressly prohibits employers from discriminating against individuals because of their hairstyle or other traits associated with race.
Massachusetts
April 4, 2022
Massachusetts Supreme Court rules triple pay for late final wage payment. The Massachusetts Supreme Judicial Court ruled that employers must pay all wages due to a discharged employee, or the employer is liable for treble damages.
Maryland
July 1, 2022
Maryland harassment survey due. Maryland employers with 50 or more employees that were required to submit a sexual-harassment-disclosure survey electronically to the Maryland Commission on Civil Rights on or before July 1, 2020, must complete the survey again on or before July 1, 2022.
Minnesota
June 23, 2022
Minnesota requires employers to provide notice of frontline worker pay. Minnesota requires employers to notify frontline workers that they may be eligible for a one-time payment from the state as compensation for responding to the extraordinary circumstances of the COVID-19 pandemic.
New Jersey
April 19, 2022
New Jersey limits employer vehicle tracking. New Jersey requires an employer to notify its employees before using a vehicle tracking device.
New Mexico
March 1, 2022
Santa Fe County, New Mexico increases minimum wage. Santa Fe County requires employers subject to the County's minimum wage ordinance to pay at least $12.95 per hour to non-tipped employees for all hours worked and at least $3.88 in cash wages to tipped employees.
July 1, 2022
New Mexico requires paid sick leave. New Mexico enacts the Healthy Workplaces Act, which requires employers to provide paid sick and safe leave to employees.
New York
March 16, 2022
New York protects against retaliation. New York classifies the release of certain employee information as retaliation.
May 6, 2022
New York requires electronic monitoring notice. New York requires private employers that monitor electronic communications to provide advance written notice on the types of electronic monitoring that may occur.
May 13, 2022
New York expands protections against domestic violence discrimination. New York has enacted legislation that adds "status as a victim of domestic violence" to the list of protected classes throughout the New York Human Rights Law.
May 15, 2022
NYC clarifies pay transparency law. The New York City Commission on Human Rights has released additional guidance on its pay transparency law, which was scheduled to take effect on May 15, 2022, but is now delayed to November 1, 2022.
July 14, 2022
New York adds new requirement on sexual harassment. New York will require employers to provide employees with information about the new sexual harassment prevention hotline.
Ohio
July 6, 2022
Ohio exempts worksite travel overtime requirements. Ohio exempts the time spent engaged in traveling to and from a worksite or performing specific tasks from the state's overtime requirements.
Oregon
March 7, 2022
Oregon temporarily amends Equal Pay Act. Oregon temporarily removes the requirement for employers to consider a hiring or retention bonus as "compensation" for pay equity purposes from March 7, 2022, until September 28, 2022.
April 1, 2022
Oregon issues final rule on sick leave for public health emergencies. Oregon permanently allows an employee to use sick time for certain public health emergencies.
April 15, 2022
Oregon establishes overtime threshold for agricultural workers. Oregon sets the maximum hours an agricultural worker may work before overtime pay is required.
Pennsylvania
August 5, 2022
Pennsylvania adopts final rule on regular rate and tipped workers. Pennsylvania addresses tipped employees and calculating overtime pay for salaried nonexempt employees.
Rhode Island
May 25, 2022
Rhode Island adds employment protections for recreational marijuana users. Rhode Island prohibits an employer from terminating or disciplining an employee for off-duty use of marijuana.
South Carolina
May 27, 2022
South Carolina clarifies employer unemployment requirements. South Carolina clarifies what information an employer must provide to the South Carolina Department of Employment and Workforce for an employee separation.
South Dakota
July 1, 2022
South Dakota amends medical marijuana provisions. South Dakota amends its state medical marijuana law, adding tighter restrictions such as removing the cannabis carveouts and allowing employers to enforce drug-free workplace policies.
Tennessee
April 22, 2022
Tennessee requires time off for Veterans Day. Tennessee requires an employer to allow a veteran employee to take all of Veterans Day off as a non-paid holiday.
May 27, 2022
Tennessee enacts shared work program. Tennessee allows employers to create a voluntary shared work program.
June 1, 2022
Tennessee extends discrimination claim filing timeframe. Tennessee increases the time in which an individual may file a discrimination claim from 180 to 185 days.
July 1, 2022
Tennessee prohibits hairstyle discrimination. Tennessee prohibits employers from discriminating against individuals because of their hairstyle or other traits associated with race.
Utah
May 4, 2022
Utah enacts hiring legislation. Utah temporarily amends certain employer hiring liabilities and adds employer verification requirements.
Utah restricts use of genetic information. Utah prohibits employers from accessing or inquiring about an employee's private genetic information or discriminating on the basis of genetic information or procedures.
Vermont
May 24, 2022
Vermont amends crime victim leave law. Vermont employers must provide unpaid leave to certain employees who are the victims of a crime and must post a written notice regarding an employee's right to crime victim leave.
June 1, 2022
Vermont sets discrimination claim timeframe. Vermont limits the time an employee may file a discrimination claim to six years.
Virginia
July 1, 2022
Virginia Overtime Wage Act provisions replaced with FLSA overtime requirements. Virginia largely aligns its overtime standards with federal standards.
Virginia clarifies religious protections. Virginia clarifies that religious protections include any outward expression of the individual's faith, such as their adherence to religious dressing, grooming practices, or carrying or displaying religious items or symbols.
Virginia clarifies maximum employer fee for child support orders. Virginia clarifies that $5.00 is the maximum fee that an employer may charge and withhold from an employee's wages (in addition to the amount required to be held for child support) pursuant to an income withholding order.
Washington
June 9, 2022
Washington adds bereavement leave. Washington employers must allow an employee to use paid family leave during the seven days following the death of a child.
Washington clarifies postnatal leave. Washington clarifies and defines various aspects surrounding an employee's postnatal leave.
Washington requires employers to reimburse insufficient funds fees. Washington requires employers to reimburse employees for certain bank fees.
Washington protects employee assistance program information. Washington restricts employers' use of employee assistance program data.
Washington clarifies paid family and medical leave waiting period. Washington clarifies how the seven-day waiting period impacts its Paid Family and Medical Leave program.
West Virginia
June 9, 2022
West Virginia enacts payroll card legislation. West Virginia eliminates the requirements that wage payment by payroll card and direct deposit be agreed upon in writing by both employer and employee.