2021: New Year Compliance Checklist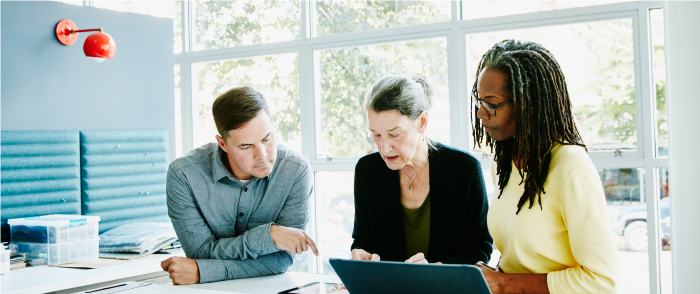 Since the New Year often brings a host of legislative changes, it's an important time to make sure your policies, practices, forms, and posters are up to date and adhere to all applicable laws. Here is a checklist to help you with your review in 2021:
Safety Protocols for COVID-19
In the beginning stages of the pandemic, many states and local jurisdictions adopted executive orders requiring employers to take general steps to protect employees from COVID-19. Toward the end of the year, emergency laws or regulations went even further in states like California, the District of Columbia, Michigan, New Jersey, Oregon, Utah, and Virginia. For example, in November, California issued emergency rules requiring employers to adopt a written prevention program that includes 11 detailed elements to protect workers from COVID-19. Safety protocols continue to evolve, so make sure you are complying with current rules and guidance.
For information on these emergency rules, visit our COVID-19 Resource Center.
W-4 Form
The Internal Revenue Service (IRS) has released the 2021 Form W-4. Make sure you use the latest version of the form when hiring new employees and when existing employees wish to adjust their withholding. Many states have their own withholding form, which may also have been updated for 2021.
Annual Notices
A number of states require employers to distribute certain notices or policies to employees annually. Some examples are outlined below.
Sexual Harassment:
Massachusetts and Maine require employers to distribute their sexual harassment policy to employees annually. New York requires that a notice be furnished during annual sexual harassment training.
Anti-retaliation:
New Jersey employers with 10 or more workers must provide employees with the Conscientious Employee Protection Act ("Whistleblower Act") notice annually. New Jersey employers with 50 or more employees must also provide a notice advising employees of their right to gender equality annually.
EITC:
Other states require employers to provide notices about the state and/or federal Earned Income Tax Credit (EITC), state-run retirement programs, pay equity, and/or whistleblower protections.
The EITC notices are typically due at the beginning of the year, but as a best practice and for administrative ease, consider distributing other annual notices at the beginning of the year as well unless required at another time.
Minimum Wage Requirements
On January 1, 2021, more than 20 states and 30 cities increased their minimum wage rates. Make sure you're paying employees at least the applicable minimum wage. Most of these jurisdictions also require employers to post a minimum wage notice in the workplace. If you're required to post a notice, make sure it's the most up-to-date version.
Salaries for Exempt Employees
Pay all exempt employees at least the applicable minimum salary required for the exemption. In some states, the minimum salary requirement for overtime exemption increases automatically whenever the minimum wage increases. In other cases, there may be changes to the rules through regulation. On January 1, 2021, this impacted employers in the following states:
Alaska
California
Maine
New York (December 31, 2020)
Colorado
Washington
Equal Employment Opportunity Policies and Posters
Sexual Orientation and Transgender Status:
Federal, state, and local laws prohibit employers from discriminating and retaliating against applicants and employees on the basis of certain protected characteristics, including, but not limited to, age, race, sex, and religion. In 2020, the U.S. Supreme Court ruled 6-3 that federal law prohibits employers from discriminating against applicants and employees because they are gay or transgender. If they haven't already done so, employers with 15 or more employees should review their policies, practices, and supervisor trainings to determine if they need to make updates in light of the Supreme Court decision.
While federal law applies to employers with 15 or more employees, many states and local jurisdictions have enacted laws that expressly prohibit employers from discriminating against applicants and employees on the basis of their sexual orientation and gender identity and may cover smaller employers. Check your state and local law to ensure compliance.
Other Protected Characteristics:
The list of protected characteristics is often more expansive at the state and local level. For example, some states have recently enacted protections against hairstyle discrimination. Some have also expanded their laws to cover smaller employers and/or non-employees, such as independent contractors and interns. When reviewing your equal employment opportunity policy, make sure it:
Includes all characteristics protected under federal, state, and local laws that apply to your business.
Prohibits retaliation against employees for filing a complaint or participating in an investigation.
Stresses that all employment decisions are based upon qualifications and capabilities to perform the essential functions of the job, without regard to protected characteristics.
States that the policy governs all aspects of employment, including, but not limited to, hiring, selection, training, benefits, promotions, compensation, discipline, and termination.
Urges the reporting of all instances of discrimination, harassment and misconduct.
States that appropriate disciplinary action, up to and including immediate termination, will be taken against any employee who violates the policy.
Nondiscrimination laws generally require employers to post notices in the workplace about employees' rights. When these laws change, an updated poster may be required. Make sure you have posted all required notices and that they're the most up-to-date version.
Leave Policies & Practices
COVID-19 Leave:
In March 2020, the U.S. Congress passed the Families First Coronavirus Response Act (FFCRA), which took effect April 1, 2020 and required employers to provide paid leave to employees for certain situations related to COVID-19 through December 31, 2020. On December 27, 2020, the COVID-related Tax Relief Act of 2020 (CTRA) extended the tax credit portion of the FFCRA for employers that voluntarily offer covered paid leave through March 31, 2021. The mandatory leave portion of the FFCRA terminated as expected on December 31, 2020, but it's possible Congress may renew these requirements in 2021.
Additionally, many states and local jurisdictions either enacted new paid sick leave requirements or expanded existing requirements to address situations related to the COVID-19 pandemic, such as Colorado, New York, New Jersey, Oregon, Philadelphia, Pittsburgh, DC, along with a number of cities in California.
Other Leave Laws:
This past year states also enacted or expanded other family and medical leave laws. For instance, effective January 1, 2021, California expanded the California Family Rights Act to cover employers with five or more employees (previously 50 or more employees) and make other changes. Check your applicable law to ensure compliance.
Policy Guidelines:
Some leave laws require employers to have written policies outlining the leave entitlement. In general, your leave policies should address:
Who is eligible (include all requirements for eligibility, such as length of service and status as a full-time or part-time employee).
How much leave is available and how it accrues (if applicable) and whether and how much leave can be carried over. Note: Leave laws often require employers to include sick leave accruals and balances on employee pay statements.
Whether the leave is paid or unpaid.
The types of absences covered by the policy.
How employees can request leave.
Employee notice about the need for leave (many leave laws restrict the amount of notice employers may require).
Benefits continuation (leave laws typically require employers to continue health and other benefits while the employee is on leave).
Documentation (many leave laws have rules on what documentation employers may require to confirm the absence is covered).
Job reinstatement (under most leave laws, employees must be reinstated to the position they held prior to the start of leave or to a comparable position).
How the policy interacts with other leave policies.
Anti-retaliation statement (many leave laws prohibit any adverse action against an employee for taking leave or inquiring about their rights under the law).
Make sure your leave practices and policies comply with applicable laws. Leave laws also typically require employers to provide and/or post a notice about employees' rights.
Equal Pay Practices
In recent years, several states and local jurisdictions have expanded protections from pay discrimination and enacted pay transparency laws. For example, effective January 1, 2021, Colorado requires employers to: (1) disclose the hourly rate, salary, or pay range and a general description of benefits of the position in all job postings; and (2) make reasonable efforts to announce, post, or otherwise make known all opportunities for promotion to all current employees on the same day. Make sure your policies practices, job posting, and application forms comply with applicable laws.
Conclusion:
In addition to the changes that took effect January 1, 2021, employers are likely to see a flurry of legislative and regulatory activity throughout the year in response to the COVID-19 pandemic. Watch for developments closely.